GRANT WRITING & FUND RAISING WORKSHOP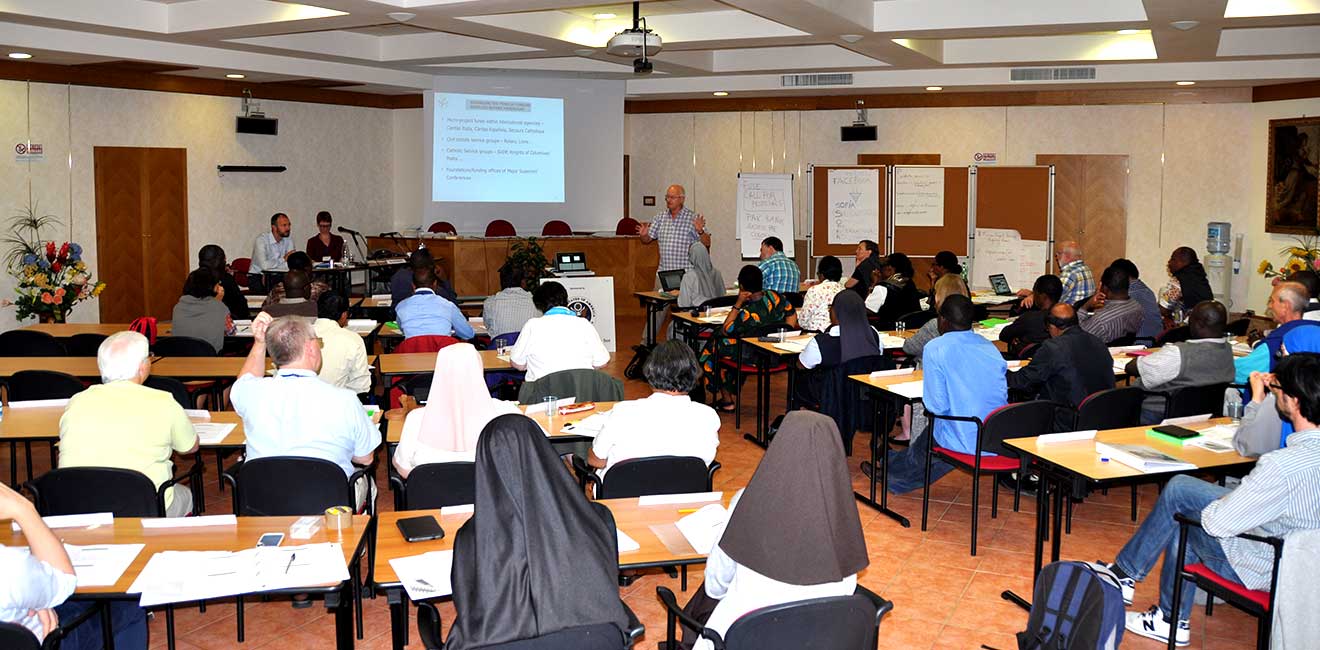 SOFIA – Salvatorian Office for International Aid: the development office of the Salvatorian Fathers and Brothers
Preparing project applications and reports
The steps of the project cycle
Results focused planning
Preparing budgets and financial plans
Monitoring and evaluation
Preparing narrative and financial reports
Catholic funding agencies in Europe and the US
Government sources of funding for missionary projects
Understanding how funding agencies operate
Two guest speakers from Catholic funding agencies
Nurturing donor relationships and strategies to grow your donor base
An introduction to corporate partnerships, events, digital marketing
Roundtable on setting up a solidarity or development office and working with lay collaborators
Classroom teaching
Group discussions and exercises
Individual work
Roundtable session
Brother Allen Sherry fms (b. 1948) is an Australian Marist Brother and seasoned fundraiser who is currently Executive Director of Australian Marist Solidarity. He was the founding Director of his congregation's International Bureau of Solidarity (BIS) in Rome and has worked as a funding consultant to several international missionary congregations. This is the 12th workshop Allen presents in Rome.
Dr. Arnout Mertens (b. 1975 in Belgium) is the International Director of Philanthropy and Development of the Jesuit Refugee Service. Until February 2017, he was the co-founder and Director of SOFIA, the Rome-based development office of the Salvatorian Fathers and Brothers (SDS). He created partnerships with philanthropists and funding agencies from Church in Need to the European Commission. It is the 5th time he teaches the workshop with Allen.
Ms. Regina Lynch, Director of the Projects Department at Aid to the Church in Need.
The Public Affairs Officer of the U.S. Embassy to the Holy See will illustrate the funding schemes of American Embassies.
The workshop is directed at religious or lay people working for congregations who are NEW to the field or have only little experience. A good understanding of English is required. No translation can be provided.
1. Registration: Monday 8 October 2017, 8:00 to 9:00 am
2. Daily sessions:
Monday-Tuesday and Thursday-Friday: 9:00 am – 5:00 pm (breaks: coffee 10:45-11:15; lunch 12:45 – 2:15pm; coffee 15:30-16:00)
Wednesday: 1:00 – 1:45 pm light lunch; workshop 2:00 – 6:00 pm (coffee 15:45-16:15).
Wednesday morning is kept free to give the participants the opportunity to attend the General Audience of Pope Francis on St Peter's Square.
Villa Maria, Largo G. Berchet, 4 – 00152 ROME (pleasantly located on top of the Gianicolo hill, next to Salvator Mundi Hospital)
How to get there.
Free wireless internet will be available.
If possible a draft project application or data for one project, so you can work on the application during the workshop. We will give you feedback on how to improve it and where you could try to ask for funding.
We do not offer housing, but you can download here a list of different accommodation options in Rome.
Villa Maria, which is managed by the Salvatorian Sisters, offers a limited numbers of single rooms for 65 euro/night including breakfast. contact details.
We ask for a donation of 700 € for the entire week, which is to be paid cash upon arrival or by bank transfer to:
Fondazione SOFIA Onlus
IBAN IT25 W052 1603 2290 0000 0012 540
BIC/SWIFT BPCVIT2S
purpose: workshop + your name
The donation covers all sessions, the course materials, five lunches and the coffee breaks, and helps SOFIA to provide scholarships for kids from Parola slum in Manila (Philippines).
Click here to register for the course.
Please contact at:
workshop@mailsds.org or by fax to +39 06 68629400.
We suggest that you keep a copy for your own records.
REGISTRATION DEADLINE: AUGUST 30th 2018
(we have 50 places, allocated on a first come first served basis, so early booking is recommended.)