- When art keeps crime away -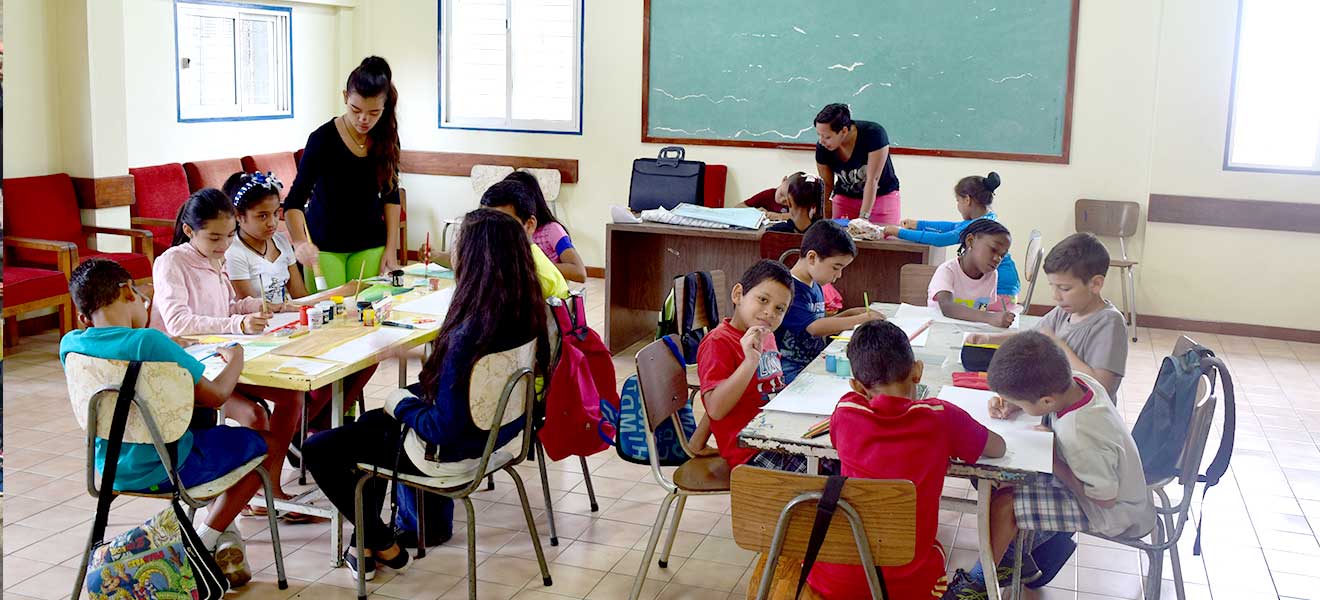 Veronica (name changed) lost her teenage son due to gang wars on his way to a school outside the slum. John is a teenaged school dropout living with his single mother. He is a drug carrier because he cannot find a job. These are common stories in the slums of Catia.
Catia is one of the largest slums of Caracas and of Latin America altogether. It is located about 10 km west of the centre of the metropolis. Poverty and violence are the two keywords to describe Catia, where about one million of Caracas's 4.5 million inhabitants live. Both phenomena are caused and sustained by the weak structure of the families, the low degree of education and vocational schooling, and the very high unemployment rate. Families are extremely poor and usually broken. Women, who in many cases are alone to take care of their children, often have children from various men and have to look for income together with the older children. The economic and political crisis of the past years has only helped to make things worse.
As people are so busy surviving, there is no time or energy left for the supervision or education of children. As a result, children easily become early school dropouts, have to work to increase family revenue, have low moral values, become parents themselves at a very young age, often join local gangs, and die early.
SOFIA collaborates with the Salvatorians to face these challenges by providing education, health and shelter homes within the slum.
EDUCATION
SOFIA supports La Constancia school, one of the largest schools in Catia with 1000 pupils. Worth mentioning is the quality of the education delivered by the school. In the autumn of 2009, La Constancia was awarded two international distinctions: the Premio Continental de Excelencia Educativa from the Organización Continental de Excelencia Educativa (ORCODEE) and the Premio Sapientiae 2009 from the Organización de las Américas para la Excelencia Educativa (ODAEE). La Constancia received the awards for its "excellent educational and social work" and for its "brilliant management".
Schools in slums offer a way out of poverty, bring structure in to children's lives, keep kids off the streets, out of gangs, away from drugs and irresponsible sex – in short, they are crucial for poverty reduction as well as for sustainable economic and social development.
HEALTH
For over 10 years the Salvatorians have been running and constantly expanding a health centre. About 80 consultations a day are being done, including ordinary doctor consultations, dental treatments, x-rays, endoscopies, and asthma treatments. Over 5,000 people have the opportunity to receive adequate treatment in case of illness, pregnancy, infections, and accidents.
In 2003, the Salvatorians started with direct housing assistance. So far, over 1,000 small slum houses have been improved with concrete floors (instead of sand which turned into mud after rains), corrugated sheet roofing, and basic sanitary fittings.
SHELTER HOMES
In 2004, the Salvatorians started with the shelter of homeless street children and neglected youngsters. Today they run one shelter for children "Casa Hogar El Encuentro" and another shelter for adolescents "Casa Hogar El Timón"– 28 guests in total. The background of the inhabitants of the shelter houses is very different, but all of them have gone through extreme situations in their short lives.